Festival directors of Raccontamiunastoria International Storytelling Festival, Paola Balbi and Davide Bardi are also co-artistic directors of the Raccontamiunastoria Storytelling Company. Raccontamiunastoria is a founding member of the Federazione Italiana Storytelling and member of the Federation for European Storytelling (FEST) since 2008. Stage partners for six years, Paola and Davide tell in a unique style that creates a dramatic, tandem performance which explores the male and female perspective.
Their repertoire, always concentrating on material rooted in the oral tradition, ranges from epic shows based on Bible stories (David and Bathsheba, I Alone Love You: Peter and Mary Magdalene), to historically based sagas ( The Eagle and the Snake: Caesar and Cleopatra) to Roman and Italian myths (If These Stones Could Speak, Magna Mater) , from medieval tales (Sex and the City 1300:Erotic Tales from Boccaccio's Decameron, The Ballad of the Castle) to Italian folktales (Playing Cards with the Devil, The Door Is Always Open: Stories of Friendship and Hospitality).
Their telling is always blended with live music and singing.
Paola and Davide are regularly invited to prestigious international storytelling festivals,including Alden Biesen International Storytelling Festival (Belgium), Toronto Festival of Storytelling (Canada), Kea International Storytelling Festival (Greece), and Beyond the Border Storytelling Festival (UK).
Catch Racconta­miunastoria in: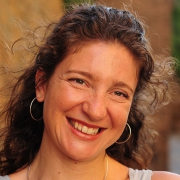 Paola Balbi
A trained Shakespearean actress and storyteller, Paola delivers her stories both in Italian and English in a unique passionate style, based on skilled use of voice and body language. She is a Professor of Storytelling at Link Academy University in Rome and has also collaborated with Oslo University College. An experienced sailor, Paola loves to tell stories about the sea, sailors and pirate women as well as old stories from her ancient aristocratic Italian family, and mythic stories featuring strong women from all cultures. In the past two years Paola has worked with the Welsh storyteller Michael Harvey preparing what she considers to be one of the masterpieces of her career, Angerona: The Secret Name of Rome . This performance represents for her the ultimate artistic experiment trying to link her two greatest passions, storytelling and Shakespearean theatre, with a message she really cares for, justice and rights for women all over the world.
Catch Paola Balbi in: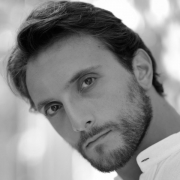 Davide Bardi
Davide is an actor and storyteller who enriches his performance with singing and musical accompaniment. He tells traditional stories of his home region Maremma in Tuscany, including a performance of When the Libeccio Wind Blows, where he blends the true story of the brigand Domenico Tiburzi with local folk tales and legends.
Catch Davide Bardi in: