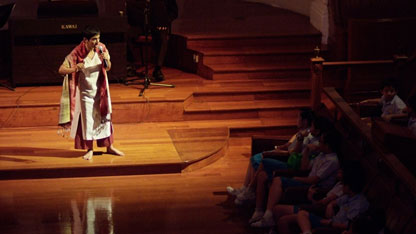 Performances
Dark as Night, Colourful as a Rainbow
31 Aug, 2.30pm – 4.00pm (Mon)
1 Sept, 8.00pm – 10.00pm (Tue)
2 Sept, 2.30pm – 4.00pm (Wed) SOLD OUT!
Ngee Ann Kongsi Auditorium, Singapore Management University [map]
Matinees: $12 adults / children (6-12 years)
Evening shows: $25 adults / $18 children (6-12 years)
Gala Charity with Guest of Honour, Mrs. S.R. Nathan
2 Sept, 8.00pm – 10.00pm
$40 adults / children (6 – 12 years)
Proceeds from ticket sales will go to The Singapore Association for the Deaf
Ticketing with the Arts House
Celebrating his 30 years of storytelling in Singapore, Roger Jenkins shares some of his favourite stories in his signature entertaining style. The performance will also mark a reunion his popular partners from Hi! Theatre of the Deaf, Phizzog Mask Theatre and The Madhatters Comedy Company, so there will be stories spoken and signed, performed with masks and as well as stories improvised on the spot from suggestions provided by the audience.
Starring: Roger Jenkins, Randy Chew, Gophinathan, Alison Lester & Christina Sergeant
SAFRA International Storytelling Concert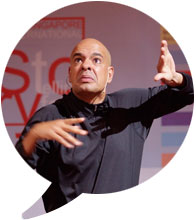 5 Sept, 2.30pm – 4.00pm (Sat)
SAFRA Toa Payoh, Multi-Purpose Hall
$12.80 Member / $19.25 Guest (adults / children 6-12 years)
Ticketing with the SAFRA
Experience the fascinating art of telling stories with six of the best storytellers of the world, from four different countries, surrounded by fabulous music, song and rhythmic movements. Witness the ancient art of oral storytelling being brought to life through different narratives. Come hear storytelling at its most magical.
Starring: Eth-Noh-Tec, Roger Jenkins, Randel McGee, Bobby Norfolk, Valentina Ortiz & Marien Tillet
International Storytellers Showcase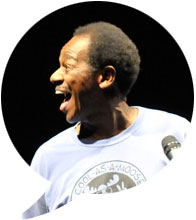 11 Sept, 7.30pm – 9.30pm (Fri) SOLD OUT!
12 Sept, 7.30pm – 9.30pm (Sat) SOLD OUT!
Gallery Theatre, National Museum
$25 adults / $18 children (6-12 years)
Ticketing with the Arts House
The International Storytellers Showcase returns for yet another highly-anticipated season. You can look forward to a delightful 2-hour performance where renowned international storytellers bring to you a rich repertoire of folktales, myths and legends in intriguing styles that are representative of their home countries. In intimate settings of the Gallery Theatre you will feel the sense of every nuance; and hear every inflection of the storytellers as they cast their spells on you.
Starring: Eth-Noh-Tec, Anna Jarrett, Ruth Kirkpatrick, Randel McGee, Bobby Norfolk, Sherry Norfolk, Valentina Ortiz & Marien Tillet
Maidens, Mayhem and Murder!
An evening of Scottish stories and songs with Ruth Kirkpatrick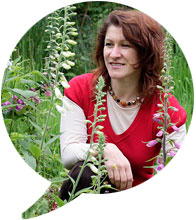 4 Sept, 8.00pm (Fri)
The Vault, Intercontinental Hotel, Bugis
$25 inclusive of 1 drink and light refreshments (adults only)
Ticketing with the Storytelling Association (Singapore)
Spend an evening immersed in the lore of Scotland! From the light-hearted to the heart-breaking, these tales and songs have shaped the landscape of Scotland and the character of the Scots. Hear their secrets of joys and sorrows from the past. Join Ruth on a journey through the glens and the hills, by the rivers and over the seas. Ruth breathes new life into these old tales, respecting the tradition but also adding her own sparkle. She has appeared at Festivals all over the UK, Scandinavia and India.

Tickets available from:
Performances are eligible for the Singapore Totalisator Board Arts Grant subsidy, except for 'Maidens, Mayhem and Murder!'.
The Arts House
Box Office
:
1 Old Parliament Lane, Singapore 179429 [map]
Mon – Fri : 10am – 8pm
Sat : 11am – 8pm
Sun : Closed
E-tickets
:

[email protected]

Hotline
:
+65 6332 6919
Important Notes
All tickets are subjected to a ticketing fee – $1 for tickets below $20, and $2 for tickets above $20.
Please refer to map for directions to The Arts House.
Counter will be opened at the performance venue 1 hour before show time for ticket collection.
SAFRA Ticketing
Cheque
:
Payable to 'SAFRA' and mail to:
293, Lorong 6, Toa Payoh,
SAFRA Toa Payoh Club,
Singapore 319387
Cash/Nets/CC
:
Customer Service Counter @ any SAFRA clubs
Online
:
www.safra.sg
Enquiry Contact
:
Pauline Ng / 63554506 /

[email protected]


May Lee / 63554512 /

[email protected]
Important Notes
Allocation of seats is on a first-come-first-served basis.
Tickets sold are not refundable
The Storytelling Association (Singapore)