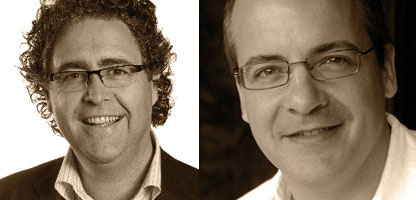 Masterclass on
Business Narrative
8 & 9 Sept, 9.30am – 5.30pm
Singapore Polytechnic Graduates' Guild, Ballroom, Level 3
Storytelling for Managing Change and Influencing Culture
By Shawn Callahan & Patrick Lambe
Great leaders are storytellers who understand the persuasive power of stories. Many premier multi-national companies have, for years, used stories to convey values, build relationships, transfer knowledge and ignite passion in their staff and customers.
Corporate storytelling is the most effective tool for cultural and organisational change.
Join us at this 2-day Masterclass and learn how to lead and inspire success through compelling stories
Day 1 · 8 Sept
Surveys and metrics can uncover trouble in an organisation, but they usually don't help you identify the deeper reasons for dysfunctions, let alone generate the resolve to springboard people into action. Learn to use stories as listening posts and tap into emotion and culture to spark action.
This first day will teach you to gather and make sense of stories so as to see revealing patterns and use them to gain traction on solving messy organisational problems or reaching complex goals.
Story Listening for Managing Change and Influencing Culture
What's really going on in your organisation?
What are the touch points where small changes can transform behaviour and morale?
How can you develop a common understanding of what needs to be done and generate the resolve to do it?
Outline:
On Day 1, you will
explore how the stories people tell can give actionable insights into the culture and preoccupations of an organization
learn the role of narrative approaches alongside other organisational development and management techniques
practise story elicitation techniques
analyse stories and design appropriate interventions
plan a story listening project
Outcomes:
Anyone struggling with thorny human problems or complex goals such as the following will gain value from this workshop:
managing through uncertainty, downsizing and restructuring
working in organisational development or change management
working on culture change, building or rebuilding trust
making mergers and acquisitions successful
capturing the knowledge of retiring employees
extracting lessons from projects
improving occupational health and safety
managing risk
Day 2 · 9 Sept
We all want to convey our ideas with impact, yet eyes instantly glaze the moment you beam your PowerPoint presentation laden with slide after slide of dot points. We know informally that stories are engaging; we tell them at dinner parties and people listen and they 'get it'. Yet few leaders systematically harness storytelling to communicate ideas, convey the organisation's values or inspire and motivate people.
Telling business stories is not about concocting events and delivering your tale to an enraptured audience. Rather, it relies on people retelling their own experiences in an authentic and empathetic way. In this course, you will be introduced to a three-step process developed by Anecdote to guide you in achieving this skill.
Story Telling for Managing Change and Influencing Culture
How do leaders engage their colleagues and communicate complex ideas simply and effectively?
How can telling powerful stories communicate values, inspire trust, and create support?
How can storytelling help you become an authentic and empathetic communicator?
Outline:
On Day 2, you will
discuss the characteristics of powerful and effective stories in a business context
learn how to craft questions to discover powerful stories
prospect for stories using interviews and anecdote circles
craft the structure and patterns in a story for best effect
build confidence in telling your story
Outcomes:
This workshop is for anyone wishing to improve their leaders' ability to communicate ideas and engage staff in developing new behaviours. You should attend this course if you are interested in:
building confidence in a climate of uncertainty
communicating your organisation's mission, vision and values
conveying desirable behaviours
sharing knowledge
becoming a more effective leader
sparking action around a change vision
having people really listening to your ideas.
Who should come:
Managers in organisational development, learning, human resources, communications, knowledge management and change management will benefit from this Masterclass.
PDF Download flyer
Fees
Full Masterclass fee
S$400/person (normal rate)
S$350/person (early bird registration by 31 July '09)
S$350/person (group registration of 3 persons or more)
One day fee
S$250/person
All prices are in Singapore dollars and GST inclusive.
Register online now or view other registration methods.
Special rates only for iKMS members!
S$320/person for early bird registration by 31 July 09 or group registration of 3 person & above
S$350/person for registrations received after 31 July 09