Seung Ah Kim is the founder of Arirang Storytelling Concert and counts herself as Korea's first professional storyteller. Inspired by the folktales her grandmother told her as a child, Seung Ah tells Korean folkstories in a dynamic and interactive way that is engaging for audiences of all ages, backgrounds and nationalities. Her performances combine traditional Korean folktales and mythology with contemporary stories from her own life.
The 'Arirang Storytelling Concert' and 'Pansori Storytelling Concert' reflect Seung Ah's dedication to and enthusiasm for traditional Korean storytelling by creating stimulating storytelling performance to share tales that captivate audiences, bring people together and enhance cross-cultural communication. Her aim is to engage audiences curious about Korean culture, and to gain a foothold in Korea for an art form that has typically been seen as a juvenile pursuit.
Arirang Nights of Storytelling (Korea)
Seung Ah Kim started Arirang Nights of Storytelling because of her love for stories and her desire to share her fascination with traditional Korean stories with others. Pansori is the traditional Korean art form of musical storytelling.
Catch Seung Ah Kim in:
Sunny Lee
A geomungo performer, Sunny Lee's performances – some combining traditional music and multimedia - have been described as graceful, intelligent and adventurous. A member of the National Centre for Korean Traditional Performing Arts since 1996, she has performed with esteemed ensembles including KBS Traditional Music Orchestra
Catch Sunny Lee in: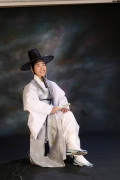 In Hwan Im
In Hwan Im is a pansori singer and character actor.
In Hwan inherited his artistic talent from his father, who had longed to become a pansori singer, but was forced, as the eldest son, to become a stonemason to support his family. In Hwan received his initial training in traditional Korean arts from a monk. In Hwan has since made his own way as an artist, staying faithful to his father's dying wish: "My son, be a great artist. Make my dream come true."
Catch In Hwan Im in: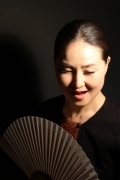 You Sook Jung
You Sook Jung, a pansori singer and performer, was born and raised in Wonju, Gangwon, in the north-east of Korea. Because Pansori originated in Korea's southern region, pansori performances in You Sook's hometown are rare. It was only after You Sook graduated from high school that she watched her first pansori performance. Having fallen instantly in love with the art form, she trained under the celebrated pansori master Yoo Hyang Sung. You Sook is currently the manager of the Korea Pansori Association in Ansan.
Catch You Sook Jung in: