Storytelling for Post-Disaster and Trauma Healing
Helping Children Heal (ACS Day 2 Workshop)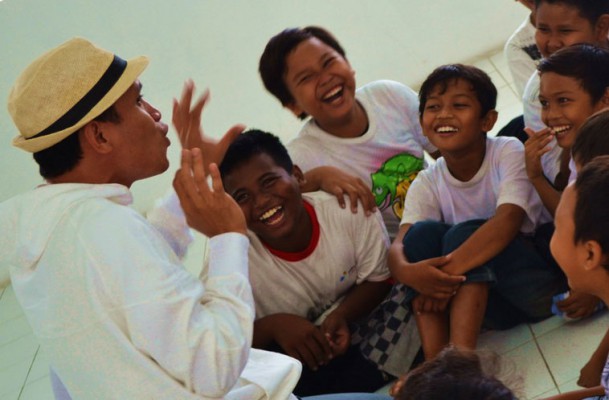 | | |
| --- | --- |
| Date: | 6 September 2014 (Sat), 10:00am – 12:00pm |
| Target: | Parents & Caregivers, Teachers & Educators, Librarians, NGOs, Therapists, Counsellors |
| Level: | General, suitable for all levels |
| Venue: | The Arts House |
| Tickets: | S$35 |
| | Get Tickets |
Ariyo's work as a storyteller in post-disaster and trauma healing situations ranges from the 2004 Tsunami in Aceh, tsunami in Pangandaran, earthquake in Bantul, the big flood in Jakarta and to the Mount Merapi volcano eruption in Yogjakarta.
"Why focus on children with trauma? In Ariyo's experience, unlike adults – who have managed to develop their sense of reasoning and therefore are more likely to find the answers to unfortunate situations – children know little of why they experience hardship. Children going through traumatic experiences like natural disasters or severe illnesses often place the blame on themselves. If this condition is left unaddressed then children will most likely grow up developing wrong conceptions about life that could prove fatal for their future. Therefore, in order to help these children understand and later on, handle the situation, Ariyo has volunteered in many regions that have been struck by disasters." See more on Stories of Empowerment.
SUMMARY OF THIS WORKSHOP:
Storytelling is a powerful tool to deliver messages of life-values to children. This also applies to situations that are out of the ordinary. Storytelling is a powerful tool for post-disaster and trauma healing. This workshop will discuss how to use stories and storytelling in such situations. Ariyo will also share his first hand experience as a storyteller who has worked in such situations, especially with children.
WHAT TO EXPECT:
Participants will hear stories told and explore the stories, related to the objective of post-disaster and trauma healing.
Participants will learn certain storytelling techniques used to deliver stories in post-disaster and post-trauma situations.
LEARNING:
Participants will interactively learn how to tell a story for trauma healing, and work in groups to discuss ideas.
Participants will contribute to group sharing and gain ideas in planning stories for specific objectives for healing.
articles: